Opportunities to make a mark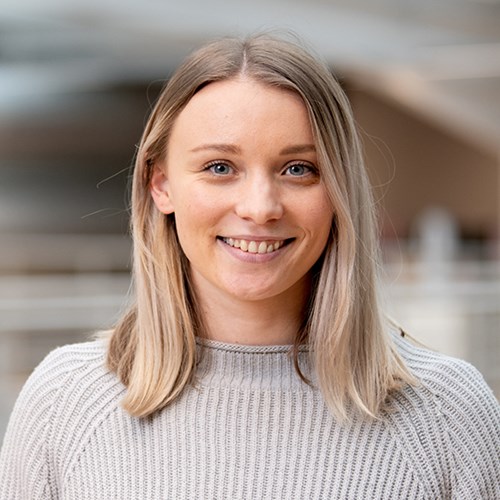 Abigail Mackie
Associate Data Product Manager, Malmesbury, UK
International travel, a placement in Singapore, and picking up award nominations along the way.
I studied Business Management in Cardiff and graduated in 2017. I actually studied Dyson at school as part of my Design and Technology A Level, and did a piece on why it's a great British engineering company. I was fascinated by Dyson. It was one of those cool companies focused on technology.
I loved the culture at Dyson immediately and got on really well with all the managers during the assessment centre interviews. It was challenging, but I knew that if I secured an offer, I wouldn't turn it down. The graduate scheme is a really good combination of business skills and insight into technology. My first rotation was Business Analysis and was the perfect bridge because it was about gathering and understanding business requirements for a company-wide procurement platform. I got to work with people across Dyson and organised six weeks of offsite workshops in the UK and Singapore.
My second rotation was focused on IT Transformation and involved working closely with the leadership team. I facilitated and coordinated change advocacy groups across the globe, including bi-weekly catch ups with all streams, to better understand the challenges we face working globally.
What I love about the graduate scheme, is that it's flexible and I've pitched where I've wanted to go. I'm currently working in Data Product Management, which is something that wasn't initially proposed to me as a rotation, but it was something I wanted to do. I expressed an interest in coding and they allowed me to do my own side project using spatial analytics to understand the Dyson bus routes, and make them better. My team was really interested and supportive even though it wasn't something that would have fallen into the role.
I was recently asked to come up with some data visualisation on our environmental impact as a global company. It was a last-minute request and I quickly had to learn how to use Tableau Software. I was getting data from Singapore and Malaysia, and now it's going in front of James and Jake Dyson. That's been one of my big achievements so far. It's been challenging, with huge time constraints, and I've had to be responsive, but it's been really exciting. And as a result of my activities, in May 2019 I was shortlisted for the DataIQ New Talent Award 2019.
I'm now in Singapore and one of my main objectives is to understand what it's like to work in an office away from Malmesbury, and to get a better understanding of workplace practices in different cultures. At the Dyson Singapore Technology Centre (STC) I've been directly involved with our Research, Design and Development (RDD) teams there and increased my involvement with managing data products. This has benefited from the ability to visit the Malaysia Development Centre (MDC) to meet face-to-face with stakeholders. I've learnt a lot about myself through working at a different geographic location to the majority of my team. I've discovered how much I value relationships, from team activities outside of work to how to make the most of the limited time I have to speak with the team back in the UK.
I knew I would have an international rotation, but I made sure I had conversations with the data team on whether I would have the opportunity to do this abroad. I'm finding that you shouldn't just ask, you have to propose. At Dyson you can do really great stuff, but you have to seek it out. For my final rotation, I've proposed to work in RDD and work with the data team on their side of the fence. So for that, I've pulled together a business case stating what the benefits to IT would be.
Another side project outside of my day job was inspired by Sheryl Sandberg's book, Lean In. I lead a group of four people based around the world, and we meet monthly to share objectives, experiences and make suggestions. We talk about what it's like to be a graduate, progressing on the scheme, and any tips on developing. I'm encouraged to take on additional projects with no blockers. It's nice to have a network, an extra support system. I've discovered there's way more of a graduate community at Dyson than I thought there would be. The first induction week was so beneficial in making friends across the business, which has really come in handy in the roles I've been in and outside of IT. There's a great culture here and so many projects have come from a lunch or noticing a project with another graduate and picking up on new opportunities. Often, it's not a strict formal meeting, but this is key to our culture.