Rethinking robotics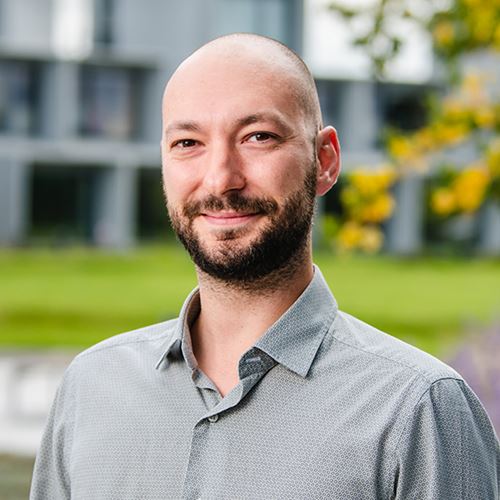 Edoardo Farnioli
Robotics Research Control Team Lead, Malmesbury, UK
From academia and global robotics competitions to cutting-edge robot control.
I joined Dyson in January 2018. A friend of mine had applied for a job here, and he called me for advice. I discovered that Dyson are investing in robotics. So I decided to apply for a position as well. It was the right decision. Working at Dyson is exciting – it still feels like I arrived yesterday. Life is fast, you're busy, but in a good way. Levels of stress are under control and it's a great working environment.
Coming to work at Dyson was my first time outside of Italy. So far, I'm loving the experience of living and working in the UK. I was surprised by how projects are developed at Dyson. In previous roles, projects were very well-defined by the coordinator at the beginning, and particular tasks assigned to certain people for the project duration. Here, that's not been the case. Dyson is very good at giving people the chance to come up with new ideas and grow. That's the approach at Dyson – to surprise people with problem solving. It may not be the most efficient way of working, but it guarantees brilliant results.
At Dyson, I work in the robot control team. My job involves developing algorithms, including motion control and physical interaction. That involves also safety in the interaction with humans, a critical and challenging matter. The robotics research team I'm part of totals around 30 people, divided into two groups that cover the subjects of robotic vision and hardware design. There are also sub groups, including the robot control team, which is the group I'm coordinating.
The projects we're working on are fascinating. I've learnt new technical skills, but also improved my own human interaction skills since starting here. Things work better when there's good collaboration and communication across teams. My background is in robotics, but my last job wasn't in robotics. Before Dyson, I was working for a defence company in Rome. I had the opportunity to use different skills, which has improved my approach to research.
Before that, in the previous six years I mostly worked in academic research. In that period, which includes also my PhD, I worked on robotic hands and humanoid robots. Across several European projects, I had the chance to work at the University of Pisa and the Italian Institute of Technology (IIT), experiences that involved spending years both in Pisa and in Genova. At the IIT I had also the chance to collaborate with the group developing a novel full-size humanoid robot to participate to the DARPA Robotics Challenge, a prize competition funded by the US Defense Advanced Research Projects Agency, which was a very interesting experience.
At the beginning of my time at Dyson we didn't have a robot, so my work was mostly theoretical. Then finally we were able to put things into practice. We were able to show the results to James Dyson, which was a defining moment for me, and we were all very happy with how it was received.
Every day, we're fixing problems. Tasks are assigned and we're encouraged to look at the bigger picture. They say, "you are the expert in robotics, what's the best you can do?" and "what's the most valuable contribution you can bring to the project?". I've had the opportunity and space to come up with new ideas that hadn't been considered before. Every day I feel closer to the Dyson values of different, authentic and better. At first you hear them, but now they are the real values we live and work by.