Revolutionary research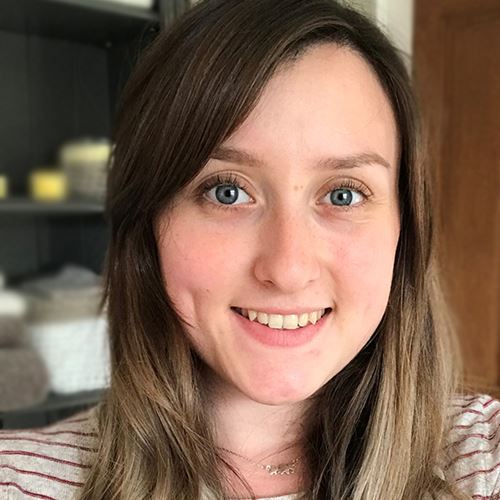 Emma Palin
Characterisation Engineer, Malmesbury, UK
Working in materials research to change the future of industry.
I joined Dyson in 2019, just a few weeks after handing in my PhD thesis for review. It was a busy time getting to grips with life in industry while preparing for my final exam.
As a Characterisation Engineer, my role is focussed on developing new battery materials and improving processes in our advanced solid-state battery labs. I'm part of a small team of materials research engineers within the wider Energy Storage team.
I originally applied for a different role within the same team but was contacted by the Talent Acquisition team to interview for the Characterisation Engineer role. It was great to know I was being considered for roles better matched to my skill set.
I discovered my passion for materials research during a summer project I worked on before finishing my undergraduate degree. It inspired me to seek out a PhD position in a similar field, which ultimately led me to my role here at Dyson.
I've always wanted a career that positively contributes to people's lives in some way and I feel my work at Dyson will do that. Solid state batteries will revolutionise almost every industry and it's exciting to be part of such an innovative programme.
The attraction of Dyson is that they go above and beyond to demonstrate the performance of a product, rather than simply claiming it in advertising. Dyson invests in its engineers and its products to solve problems differently, thinking outside the box to create and develop new and better technology.
My first few months at Dyson were definitely busy, but I quickly settled into my role. It's been a great learning experience to see things evolve from the very beginning. It allowed me to do everything from liaising with suppliers to building and modifying equipment to making battery materials.
The team I work with today is great. We push each other and the working environment is collaborative, open and supportive. As a company, we still have the ambitious goals that attracted me here. And it's great to be part of establishing our own technologies in this field.
I enjoy having the freedom to develop and test my own ideas within my day-to-day role, I have loved learning a whole new set of skills since joining Dyson, not only have I hugely expanded my scientific knowledge, but I've been able to explore personal and professional development opportunities.
While tackling the additional challenges that the Covid-19 pandemic brought in 2020, my team achieved proof of concept on a particular type of solid-state cell, making such huge progress over such a short space of time, despite a pandemic, was a massive highlight for me.
Dyson is extremely ambitious in its goals, which drives me to push myself to be a better scientist and engineer.