Form to follow function: Dyson machine design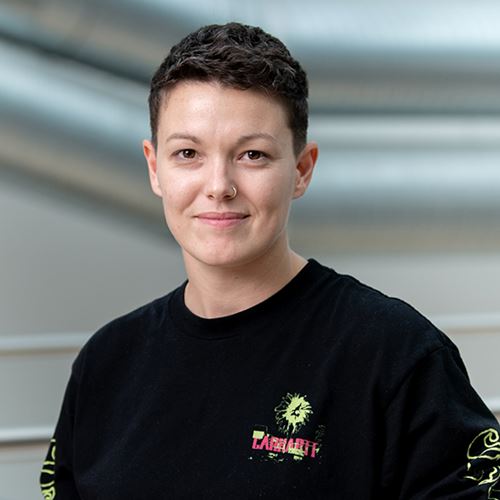 Leanne Garner
Design Lead, Product User Interface, Malmesbury, UK
From graduate design engineer to the creation of a whole new discipline
Every interaction with Dyson technology should be intuitive. Paradoxically, this is a complex design process because the technology inside our machines is so advanced. My aim is for every Dyson machine to be so clean, considered and instinctive that anyone can pick it up and be able to understand and use it right away.
I work in the Design Product Experience team in Human Machine Interaction for hair care and have been at Dyson for ten years. But my job has changed so much in that time that it doesn't feel as though it's been a decade at all!
The pace of new technology and invention means that every project is completely different. When I first came to Dyson as a graduate design engineer, straight from university, I worked in New Product Innovation for a year and a half before joining the Design and Product experience team at its inception.
The team came about as Dyson expanded. We brought out machines in categories beyond floor care and it became important that everything we created had the same Dyson feel. We needed to distil the essence of Dyson design: the best way to operate our technology and the look of each machine. That is what our team does.
There were just a few of us at the start in the Design and Product Experience team. For my first project, I re-worked the first Dyson Robot's docking system, where there'd been some trouble with usability. I'd given the initial prototype to some people to trial and watched to see where they had difficulty using it. Armed with the knowledge from user testing, I was able to successfully redesign the dock.
It was a great to have invented something new as a young design engineer. But more than anything, that project taught us the importance of trialling and testing. It's evolved into such a central part of our design process. I suppose what I do is a bit of psychology and human behaviour in that way – not being afraid to give our machines to someone who's never seen them before to see where their sticking points are.
At first, our team were seen as the trouble makers as we scrutinised design details and usability of each machine. But as time's gone on, our reputation and our word has become more and more valued. It's great when we have that moment of clarity, when we've reviewed a design with James Dyson, got everyone on board and can move forward with one vision.  
Now the impact of our work is clear and we're involved from the beginning of the engineering process. Today, we have a team of over 30 product designers, specialist model makers, user experience designers, packaging designers and CMF specialists all working to the perfect user's experience of our technology.
When I left school, I couldn't choose between maths and the arts, but with design engineering, I realised I didn't have to. I am creative every day, and in hair care particularly, my voice as a female engineer is important in the user experience design process. As a user interface designer, I bring something different to the table with the aim of creating intuitive designs that make our remarkable technology for functional for everyone.