Developing new skills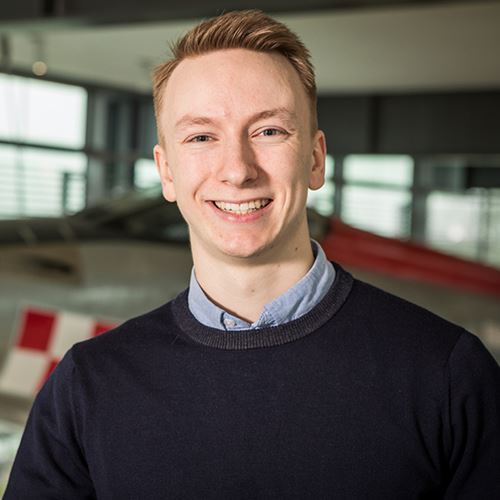 Oscar Naden
International Commercial Executive, Malmesbury, UK
A Commercial Intern given the opportunity to bring a scientific background to the Marketing team.
I'm a Biology student at the University of Bath, and currently on a 12-month placement as part of the first UK intake of Commercial interns at Dyson. A Commercial placement made sense to me – I enjoy being creative, but I also wanted to use my analytical scientific background. I have some previous experience in digital marketing, but being placed in Retail has helped me to broaden my skillset and get the most out of my placement.
At Dyson, you hit the ground running on day one and it doesn't stop. You're certainly thrown in at the deep end, but I've always had the support of my team whenever I've needed it. The internship is what you make of it – the opportunities are there but it's up to you to take them. I love the sense of community at Dyson. From weekly lunches with other interns to living with a group of graduates, having a network of contacts across the business is beneficial not just professionally, but personally too. 
When I started my rotation, I was given three projects, or missions. These were all very open-ended, which was a bit daunting at first. But I've managed to achieve my overall goal, which was to improve the retail experience through technology.
Adjusting to workplace life was in itself a challenge – managing my time, organising meetings, and networking aren't really taught at university, but you learn and grow as a result. I've also been receiving digital training through regular workshops as part of my placement. Not only has this provided me with hard skills, but I'll come away from my year here as an AdWords partner.
My proudest moment so far was when I was asked to help write scripts for our Dyson demo training videos, and also to get involved with the filming process. I never expected to spend a night in the flagship Dyson Demo store in London filming with a professional crew, but it was a fascinating experience – and it was great to know that my work also had a real business purpose.
One of my personal goals for this internship was to develop my public speaking skills and confidence presenting to others. I was asked to give a presentation to about 20 marketing representatives at the last minute – I thought there would only be five people there! Thanks to the experience I've built up over the internship, I wasn't nervous; instead I enjoyed it and got lots of positive feedback from stakeholders. I feel like I've overcome my fear of public speaking.
Since interns here have a say in what rotations they do, I'm taking the opportunity to move from Retail to the Environmental Control category, which is responsible for Dyson's range of fans. As part of my mission, I'll be directly involved in developing our global marketing campaign. I find this incredibly exciting – I'll get to bring my scientific background into my work and develop a whole new skillset.