Future technology
We're building a Robotics team focused on improving real-world problems. A broad range of expertise and specialist knowledge in the robotics field allows us to apply cutting edge research. It's the opportunity to work on real-life machine development that can have a positive impact on people's everyday lives.
The engineering story
Dyson started designing a robot vacuum cleaner in 1998, because we could see it was the future of home cleaning. For three years, we developed the technologies needed for autonomous cleaning. And we produced DC06, a robotic vacuum that could guide itself around the room, and clean properly. Yet with 54 battery cells, 70 sensors and three processors, we knew it was too big and we weren't prepared to release a machine that wasn't right. We didn't see it as a failure: we grew the team and kept developing.
Making an impact
At Dyson we're building robots to be dynamic and agile. Our high standards mean we only work with highest quality hardware. From concept through build, test, debug to delivery, our pioneering robots are created by the most talented cross-section of skilled people. Working together, our roboticists share the latest thinking to redefine industry standards and strive to create technology that works better.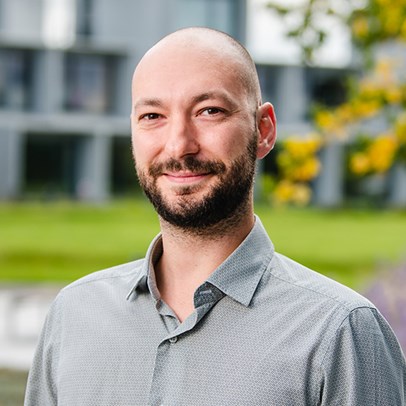 People stories
Edoardo
Farnioli
Robotics Research Control Team Lead, Malmesbury, UK
From academia and global robotics competitions to cutting-edge robot control.
Jobs in Robotics
Sorry, no search results were found.