Relentlessly improving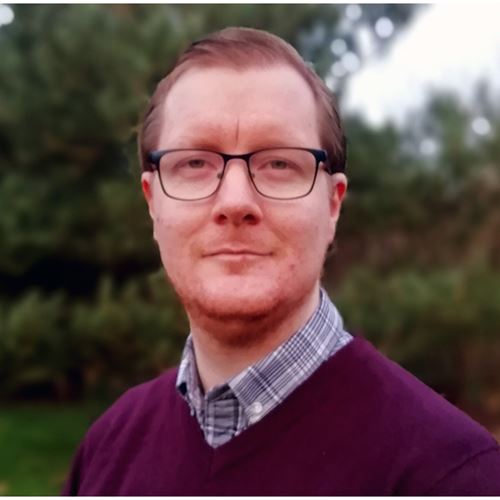 Edward
Senior Process Development Engineer, Malmesbury, UK
Helping to develop the future of energy storage at Dyson.
I've been a Process Development Engineer in Dyson's Energy Storage team since 2019. This means it's my job to develop solutions that will scale up the battery production methods we use at the research level into an automated, systematic and replicable process that can be handed over to the Development team for pilot-scale manufacturing.
I work with a great team of engineers and scientists with a wide variety of backgrounds and experiences in material science, process engineering and battery research. We're all able to develop and learn from each other's knowledge.
My background is in chemistry. I've always had a fascination with nanomaterials, and how their electrical, optical and mechanical properties can be used to make novel objects and devices. This fascination led me to doing a PhD in Organic Solar Cell design and fabrication.
Having taken a career break at the end of a fixed term post-doctoral research project, I wanted a role away from academia. Dyson were researching in energy storage solid state batteries – an area I was excited to move into. The opportunity to use my skills to help develop the manufacturing process of the next generation of batteries was a chance I couldn't miss – working for a world-leading design and engineering company with access to amazing labs and equipment, knowing that my work will contribute to products in households around the world.
Dyson has always a reputation of coming up with novel engineering solutions to solve limitations in products and they've rapidly moved away from just being a vacuum cleaner company. Dyson also shows massive ambition to move into new sectors. The investment in designing and manufacturing their own batteries really excited me, making me want to join the company and help it grow.
My time at Dyson has been challenging but exciting from the start. To begin with, I was working with processes I was familiar with, but have since moved on to developing new battery production processes which I had no experience of before working at Dyson. I've been able to learn fast from the excellent people I work with.
Working days are generally busy and the variety of work makes each day enjoyable. Most days I will be in the lab running process trials or modifying equipment to improve each of our process operations. Having to take apart and rebuild equipment allows me to get intimate with the processes we are trying to develop.
The team I work with today is great. We push each other and the working environment is collaborative, open and supportive. As a company, we still have those ambitious goals that attracted me here. And it's great to be part of the establishing our own technologies in this field.