Next-generation batteries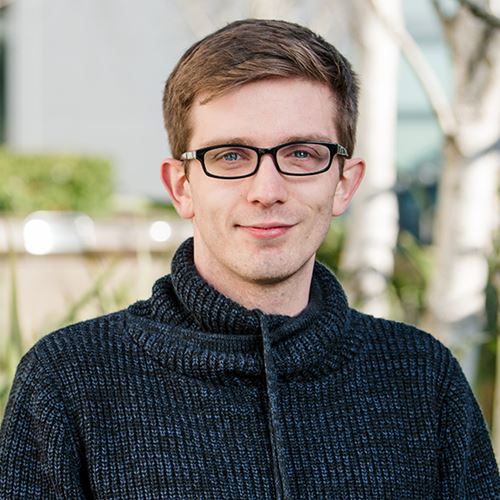 Harry Morley
Senior Mechanical Research Engineer, Malmesbury, UK
From summer intern to advanced design engineer.
Compressors, motors and batteries are fascinating. They present a unique set of engineering challenges, bringing together mechanical, thermal, electromagnetic and aero-acoustic design. As a multidisciplinary team at Dyson, we look at the most cutting-edge technology and research from universities, aerospace companies and even NASA, and then apply them to the problems we're looking at. Often, we start from a blank sheet of paper and I really enjoy this creative, problem-solving side of my job.
Back in 2014, I began as a summer intern at Dyson, working on a project with the Motors and Power Systems team. We presented to the board, which was a great experience – I was excited, but a bit nervous, particularly given there was the possibility of a permanent job at the end of it. It showed that Dyson cared about getting its interns programme up and running, and were serious about involving us in projects. During that time, I got an insight into what projects were going on and the direction of the company. I was then offered a graduate role, starting in September 2015, and have been promoted up from there. I later got an opportunity to do a secondment in research, which I found to be my true calling, so I decided to stay focused in this field. It's great that Dyson gives you the opportunity to discover what you truly want to do.
As an Advanced Design Engineer, I'm now working in technical research. We supply a lot of the motors and power electronics systems that go into Dyson machines, as well as feeding into our electric vehicle research and next-generation technology. We collaborate with the automotive team at Hullavington and it feels like our electric vehicle research is really cutting-edge. We're looking at things where there's no precedent on the market and the powertrain technology we're working on could be market-leading in terms of performance.
I've learnt a broad set of skills by interacting with all the different teams, but bringing them all together is a big challenge – it's often elements of lots of different team ideas that create the right solution. I've also been able to develop my interpersonal skills as a design engineer, presenting to senior executives who are very interested in the projects we work on.
Since joining Dyson, I've been able to apply on a daily basis what I learnt during my degree in Mechanical Engineering with Automotive. We deal with high-precision and complex systems, which has enabled me to simulate how something might perform in real life. I've also learnt more about manufacturing processes through interacting with suppliers around the world, and now have a detailed appreciation of things that need to happen in a successful supply chain. It's amazing going from sketches in a book to a production line in Singapore being able to make the item every four seconds for you.
Dyson is good at recruiting really interesting people. If you want to interact, people are very happy to share and help out. As an intern I thought I'd sit in the background, but there are loads of opportunities to learn and help others in turn.