Connected thinking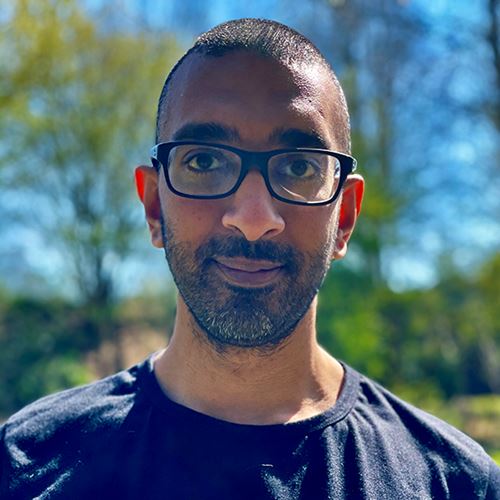 Matt
App and Cloud Manager, Bristol, UK
Supporting Dyson's smart home connected products.
I joined Dyson in 2015, when the company began building an in-house app development team to support its first connect products. I've always admired Dyson for their hardware engineering and innovation, from the first conversation I had it was clear they had the same vision for software.
As part of Dyson's Innovation team, I manage our App and Cloud teams. I oversee the technical approaches, create roadmaps for potential new technologies, serve as a key contact point for the wider business, and translate business requirements into work packages for our development teams.
Our team are responsible for de-risking new technologies and features for Dyson's future machines by developing prototypes. The team is made up of a mix of app, cloud, and embedded engineers. To develop future concepts, we collaborate closely with NPI design managers and feature designers, as well as the teams in charge of building the finished products.
I've always been fascinated by the interface between technology and aesthetics. After graduation, I began a PhD researching rendering high-fidelity graphics and psychophysics on mobile devices (this was years before the iPhone). Following that, I started developing mobile games with some university friends working with the likes of BBC, Microsoft and Aardman.
I joined Dyson as an app developer as part of Dyson's research group to work with world experts from a variety of disciplines, as well as brilliantly creative people, to face the novel technical challenges of IoT. I've always been interested in mentoring and team building, so as we grew, I moved into a management role.
My working day is extremely varied. When working with our dev scrum teams, we always start with a stand-up to align as a team, understand what people are working on, and escalate any issues we have. As a tech manager, I work with the internal team on projects, guiding the technical directions and supporting people as a manager. To keep fresh, I also write some code with the rest of the team.
The launch of The LightCycle TM was a highlight in my Dyson journey. I was part of the software team that worked on defining the features, functionality, and architecture of our first connected light. One of its distinguishing features is the way it adjusts its lighting based on the user's location, time of day, year and their age. That is extremely difficult to communicate through normal interaction with the product. Alongside the lighting and commercial teams, we developed a couple of bespoke apps to better communicate these features for launch events and retail. The team was also actively involved in assisting with demos at some of the commercial activities.
Dyson has taught me to be open to opportunities and collaboration. I love being able to identify ways in which software can drive things forward. From a tech perspective, it's very much like a university, with experts in every area, always trying to improve so there's always lots to learn. The biggest challenge of working here is navigating the company because there are so many different people and opportunities. I've been developing software for a long time. Dyson is different from any other software roles I've experienced.