A passion for problem solving.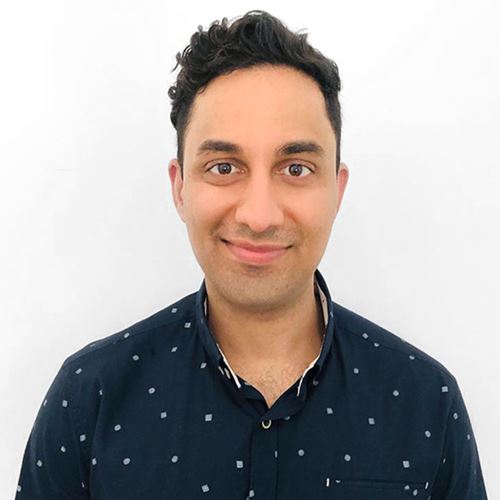 Aazam
Senior National Account Manager, Direct, Toronto, Canada
From biochemistry to Brand Manager
After four years on Air Treatment, I now have the privilege of leading Dyson Canada's Floorcare team as a Senior Brand Manager. I'm responsible for developing and executing the product and category marketing plans to deliver profit, share growth and drive brand equity within Canada. I work closely with all functional groups at Dyson and with external partners to ensure our go-to-market strategies and plans deliver on our business objectives.
What excited me the most about moving from Air Treatment to Floorcare was the opportunity to work with very different challenges. Growth in the mature vacuum category requires a very different approach to strategic thinking and planning versus establishing a relatively newer category in air purification.
Most days are occupied with leading and participating in meetings to keep the business moving along. Whether it's working with our sales team, our leadership team, the various marketing functions, or across finance and logistics. It's important that we collaborate to uncover opportunities and navigate any challenges as they arise. It's also important to ensure my team is motivated and supported on the work they are doing.
My passion for business started early on in my career as a field representative for brands. I enjoyed identifying consumer problems and finding ways to respond with solutions through the products I was representing. I realized that this is something I should make a career of, so I pivoted from my academic background of Biochemistry and Biomedical Sciences to pursue an MBA.
I wanted to work at Dyson because the culture of innovation and problem solving resonated with me. The research, design, development and engineers are at the heart of everything Dyson does. The technology and commitment to address real world problems such as air pollution offered purpose and was something I wanted to be a part of.
At Dyson, I've learned the importance of relationships and fostering a culture of collaboration. The people you work with can make or break an experience and luckily Dyson people are resilient, smart, respectful, and have a wealth of experience and different backgrounds.  They inspire me to challenge the norm, think differently, ask questions and really listen and learn from the opinions of others. There have been so many great ideas that come to reality because of this approach.
I've learned the importance of being agile and prioritizing impactful work within Dyson's fast-paced environment. We are constantly adapting, iterating and pivoting to respond to business opportunities and challenges quickly and efficiently. Seeing the outcome of hard work is my favorite part of the job.