Empowering ambition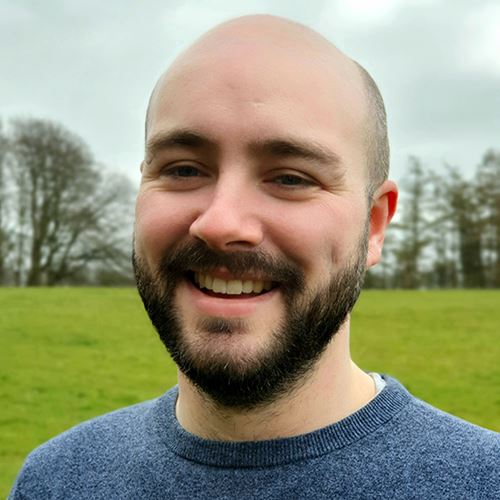 Alex
Senior Cell Design Manager, Malmesbury, UK
Meet the engineer energised by Dyson's pioneering research.
I started at Dyson in 2013. Having completed my PhD researching Li-ion cathode materials, I initially joined as a Cell Engineer. Over the years, Dyson allowed me to really stretch myself and take on more responsibilities – to the point where I felt comfortable progressing to my current role as Senior Cell Design Manager.
It's my job to translate cutting-edge battery research into bespoke new commercial designs for Dyson applications. I collaborate with teams of Dyson scientists and engineers, as well as other tech start-ups and suppliers, all around the world.
When I'd finished my undergraduate chemistry degree, I wasn't 100% sure what I wanted to do, but energy storage seemed like an interesting area to get into. Following my PhD, I knew Dyson was committed to branching into battery technology, I thought that was incredibly ambitious and wanted to be a part of it.
When I first joined as one of only a handful of people in Dyson's new Energy Storage Research team, I remember we didn't have any research labs at all. Today, we have multiple labs representing a world-class facility and a team growing to over 100 – with a broad range of backgrounds, nationalities and experience levels.
At Dyson, there's no such thing as an average day. Some days, I'll work closely with scientists and engineers to steer our research towards commercial cell technologies which can be scaled to manufacture. Other days, I might be talking with industry experts, or engaging with patent attorneys, procurement and tech-scouting teams.
My time at Dyson has really focussed my approach to problem solving, it can be incredibly fast paced, and you have to be adaptable to change.
When that small initial team produced the first full-sized Dyson benchmark cells, it was an amazing achievement. The experience taught me a lot about the challenges of taking a cell from a theoretical concept to a functioning device.
The team I work with is great, we push each other, and the working environment is collaborative, open and supportive. As a company, we still have those ambitious goals that attracted me here. It's great to be part of the effort establishing our own technologies in this field.