Responsibility from day one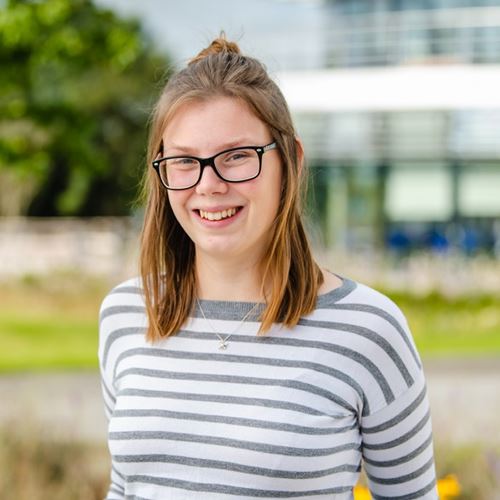 Claire
Reward Analyst, Malmesbury, UK
Shaping her own path with Dyson Early Careers.
I started my Dyson journey as a HR Intern, undertaking a 12-month placement as part of my Natural Sciences degree at the University of Bath. I enjoyed my internship so much that I returned as a Graduate in 2019.
My background is in science. But I wanted to gain experience outside of the lab and develop a broader range of skills. Aside from knowing that I wanted to work with people, I didn't know what I wanted to do beyond university. Fortunately, there's no need to have previous HR experience or qualifications to be a HR intern or a graduate. What matters is that you're willing to get stuck in, comfortable working things out as you go, and enthusiastic about Dyson and our people.
In my first rotation for my internship I worked with the Talent Acquisition Coordination team. I then moved on to a confidential GDPR-related project alongside creating content for the Dyson careers website you're visiting right now. It was such a refreshing contrast to my degree and, whilst challenging, I thoroughly enjoyed the experience and knew I wanted to pursue HR further.
At the end of my internship I requested the opportunity to present what I had achieved and learned to the People Leadership Team. This resulted in an offer to join the graduate scheme upon finishing my studies. In my final year of university, not having to worry about applying for jobs was an enormous weight off my shoulders, especially as I knew I'd return to a varied role in a fast-paced organisation.
Now I'm back at Dyson. My first Graduate rotation has been in the People Experience team, focussing on how we can improve the day-to-day lives of our Dyson people across the globe. I've gained some fascinating insights into the factors that influence people's experience of working at Dyson. I've also been able to apply the analytical skills honed during my degree to our engagement survey data. I've written board reports, presented to senior leaders, and recommended data-led actions to improve our people experience. Being given such responsibility and working on such a positive and wide-reaching project in my first rotation as a grad has been incredibly rewarding.
My next rotation will be a more general HR role in Research, Design and Development (RDD). I'm excited to experience an entirely new area of the business. It will undoubtedly come with new challenges, but whichever function you're in, you can guarantee no two days at Dyson are ever the same. I'll also still have the support of the wider People team – we're a friendly bunch!
I particularly love that our Early Careers schemes are flexible. I'm given a say in where I rotate to and have the opportunity to take on high-profile and novel projects, all whilst gaining senior and cross-functional exposure along the way. I'm not sure that many other companies could offer such a broad and dynamic scheme where you can really forge your own path.